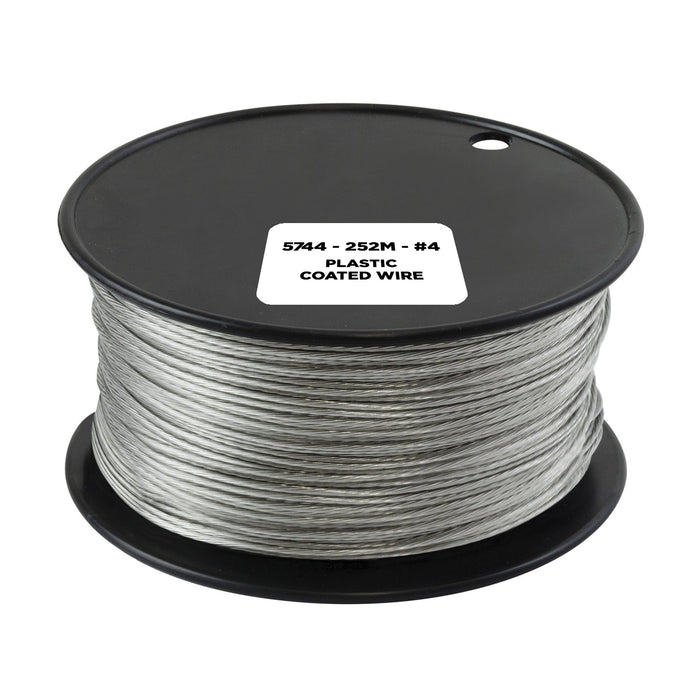 5744 - Stainless Steel Plastic Covered, Heavy Duty Wire - 252m - #4
5744 - Stainless Steel Plastic Covered, Heavy Duty Wire - 252m - #4
SUPER STRENGTH WIRE - Our vinyl wire is made of high-strength steel that can bear heavy loads of weight. It is highly flexible so it can bend and curve with ease.
CORROSION RESISTANCE - Our 1/16-inch vinyl coated stainless steel wire cable rope is coated to prevent corrosion. Originally designed to retain its strength without discoloring, our flexible coated wire rope has a higher breaking strength than other steel cables.
SOFT TO THE TOUCH - Our vinyl-coated metal wire is incredibly soft, unlike other hanging wires. They are safe and soft to the touch so fingers won't get nicked or cut.
IDEAL FOR DIY: Our versatile wire is great for do-it-yourself projects, such as building a trellis in your garden, hanging lighting, putting up an outdoor clothesline for laundry, or crafting your own artificial flowers.
252m OF VINYL WIRE - We provide you with more than enough wire for your next project so you're not left in need of more. You'll be able to work on a variety of projects at home with plenty of stainless steel wire to spare.