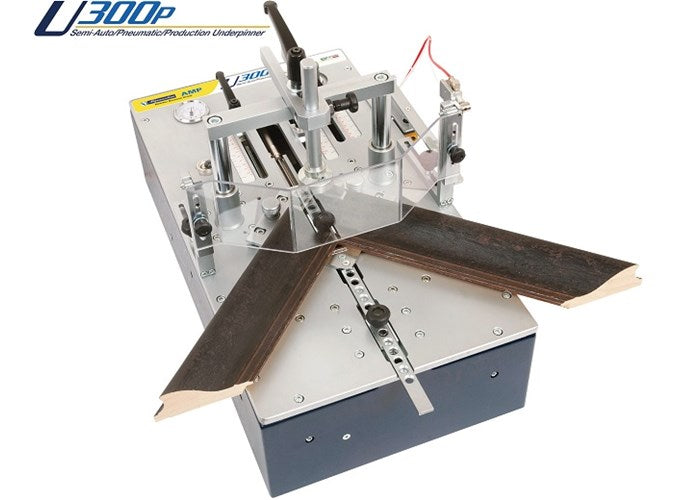 Alfamacchine U300P Semi Auto Production Underpinner
U-300P Semi-Auto Production Underpinner
Air-op underpinner for busy bespoke and smaller contract framers, offering fast and consistent joining.

Joins moldings up to 

80mm wide

 and 

80mm tall

Uses Alfa PTM v-nails inserted via sized v-nail blocks. 7mm, 10mm & 12mm blocks supplied, changed with a hex key. 5mm & 15mm blocks available as extras.

Maximum distance between v-nails 

125mm

Top pressure pad pulled down by twin pistons - this system gives maximum stability, particularly when joining harder woods.

Molding remains clamped while the v-nail carriage moves through three v-nail positions.

Back fences have angle and tilt adjustment to help you get the best join.

Working height - 300mm above bench, 36kg, base 350mm x 640mm.
Why buy me? Offers fast, consistent joining - great for repetitive volume framing.
Choosing New Framing Equipment?
Special Order Expected availability: 7-14 business days from date of order. To request a stock availability update on this product please email us at info@rafigroup.ae.
Local Gulf Regional Stockiest -  UAE Emirates, Kuwait, Saudi Arabia, Oman, Bahrain, Pakistan, Dubai, Iran, Qatar.