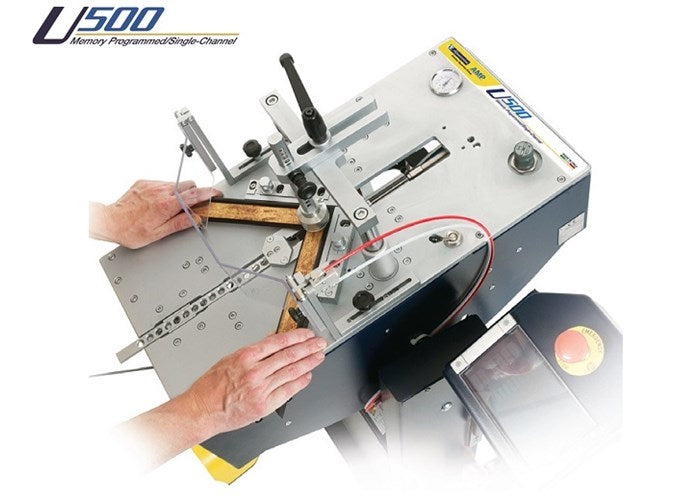 Alfamacchine U500 Memory Programmable Underpinner
U-500 Memory Programmable Underpinner
Programmable underpinners, ideal for joining wood and polymer mouldings.
Perfect for volume joining of picture frames, wood doors and trim and window units.
Features common to Alfamacchine U500 and U600 Multi-Channel
Can be programmed to store:
- Size, number, and position of v-nails
- Cycle speed to suit hardness of molding
- Barcode associated with molding
Upload profile data for up to 5000 moldings. The USB port makes it easy to back up data and share it between machines.
The operator uses a touch screen or optional barcode scanner to call up the correct settings.
Comfortably handles almost all types and profiles of wood and polymer moldings.
Join moldings up to 105mm wide and 80mm tall. Max spacing between v-nails 145mm
Double hydraulic top pressure pads, ideal for wider or more complex profiles.
Bespoke mode allows the operator to check to clamp before v-nails are inserted
Counter for output control - production records can be downloaded as a .xls file
Now fitted with new L-Pad top clamping system.
Why buy me? Program up to 6,000 profiles to store size, number & position of V Nails.
Choosing New Framing Equipment?
Special Order Expected availability: 7-14 business days from date of order. To request a stock availability update on this product please email us at info@rafigroup.ae.
Local Gulf Regional Stockiest -  UAE Emirates, Kuwait, Saudi Arabia, Oman, Bahrain, Pakistan, Dubai, Iran, Qatar.