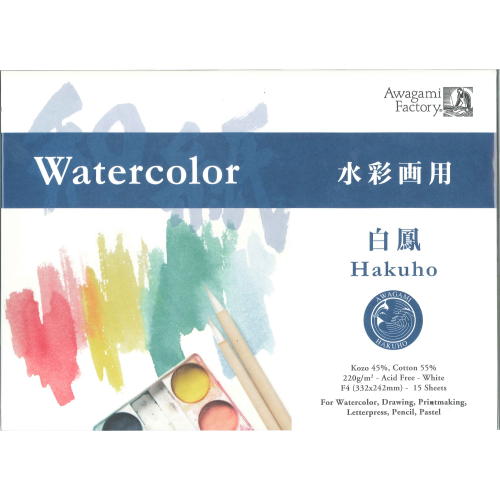 Awagami Art Pad - Hakuho - Watercolor - 332 x 242 mm - F4 - (15 Sheets)
Awagami Art Pad - Hakuho - Watercolor
332 x 242 mm - F4 - (15 Sheets)
This sturdy sheet is made from an impressive blend of Kozo and cotton and is the first fine art paper to feature this unique East meets West fiber blend. Hakuho Select has a strong and resilient surface and is certain to lend unique textural depth to artworks created on it. This washi is made from 45% Kozo and 55% cotton and is heavily sized.
Awagami Editioning Papers are crafted at the Awagami Mill with the artistry and knowledge of 300 years of washi papermaking. The papers are made using traditional Japanese fibers such as Kozo and gampi as well as other non-tree fibers such as bamboo and cotton. Fibers are often skilfully combined yielding washi with highly unique textures and expressive characteristics. All washi in this collection features 4 feathery deckled edges that add a subtle refinement to finished works.
The Awagami Editioning Papers are acid-free, archival, and made with strict attention to quality and preservation. All the papers from this series may be used by artists for a wide range of techniques from ink to printmaking to drawing.
weight: 220gsm
material: 45% Kozo / 55% Cotton
Local Gulf Regional Stockiest -  UAE Emirates, Kuwait, Saudi Arabia, Oman, Bahrain, Pakistan, Dubai, Iran, Qatar.