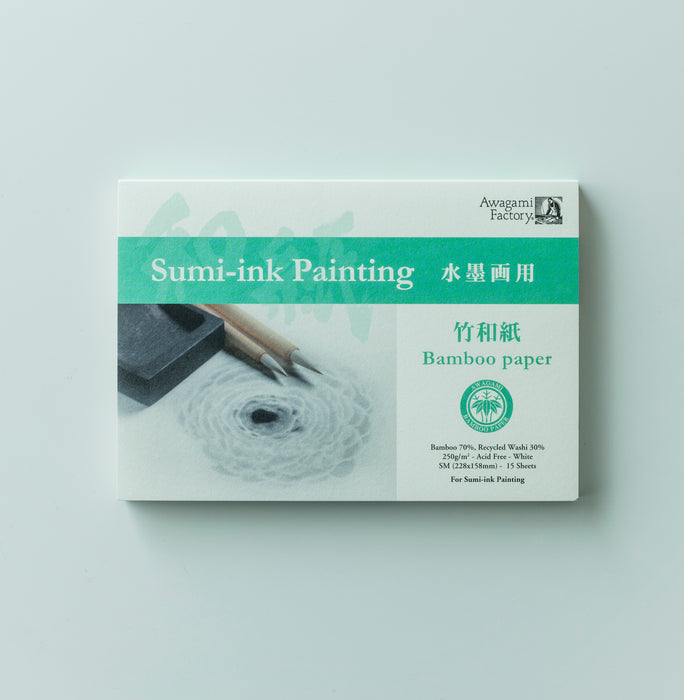 Awagami Art Pad - Bamboo Sumi-ink Painting - Signature board - 24.2cm x 27.2cm - (15 Sheets)
Awagami Art Pad - Bamboo Sumi-ink Painting
Signature board - 24.2cm x 27.2cm - (15 Sheets)
This wonderful organic glue is made here in Japan from tapioca starch and is the only glue we know of specifically developed for use with washi paper. Archival and water-reversible...use for chin-colle' printmaking, collage and journaling, etc...A must-have for all "Paperholics".
weight: 250 gsm

Material: 70% Bamboo / 30% Recycled Pulp

ph: 6 to 7

Use: 

Originally created for Asian-style ink painting, 'Bamboo Sumi' highlights the expressive brushwork and 'bleed' of traditional ink painting. This paper is wonderfully soft and sensual to the touch and also works with other painting and drawing mediums. Each pad has interleaf pages placed between sheets to prevent any bleed-through. 'Bamboo Sumi' is 70% bamboo + 30% recycled pulp - acid-free, unsized, and made exclusively at Awagami.
Local Gulf Regional Stockiest -  UAE Emirates, Kuwait, Saudi Arabia, Oman, Bahrain, Pakistan, Dubai, Iran, Qatar.