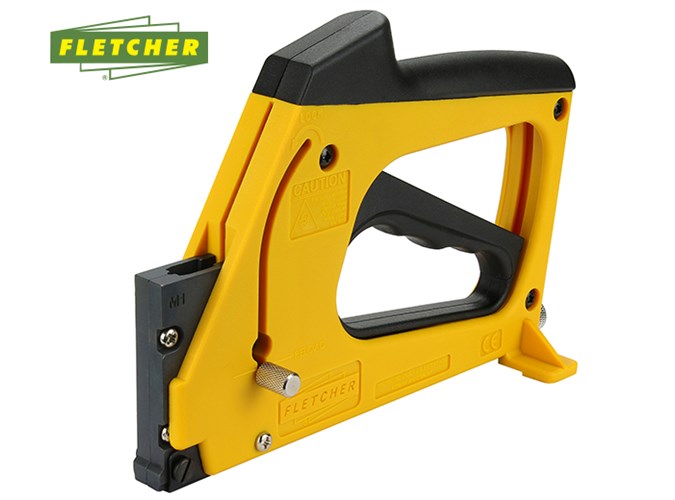 Fletcher-Terry MultiPoints & Driver
Fletcher MultiPoints & Driver - 07 700
Fletcher is favored worldwide by professional framers at all levels for making the most trusted points and drivers in the industry. Since the 1980s, Fletcher has to lead the industry in setting the performance standards for points and drivers used in the picture framing and glazing industries, and that trend continues today. Is saving pennies on some knock-off points worth risking the value of your framed artwork? We don't think so. Trust the Fletcher Brand.
The yellow Fletcher MultiMaster driver inserts the uniquely shaped twin barb bendable Fletcher MultiPoints. They are roughly rectangular in shape, with two barbs and a 4.5mm round hole. Ideal for when you want to stack one frame into another.
To do that, insert them into the lower frame side and the twin barbs hold firmly into the wood. Then put screws through the holes into the upper frame. This holds them together, yet allows them to be easily dismantled. MutiPoints are bendable so can be used in place of flexis.
Special Order Expected availability: 9-21 business days from date of order. To request a stock availability update on this product please email us at info@rafigroup.ae.
Fletcher FlexiMaster Flexipoints are 15mm long, 0.41mm thick.
The easy-to-load magazine takes 170 FlexiMaster flexipoints
Firing spring adjustable to suit wood density
Lightweight and full-grip trigger provides comfortable firing
6-month Warranty
Local Gulf Regional Stockiest -  UAE Emirates, Kuwait, Saudi Arabia, Oman, Bahrain, Pakistan, Dubai, Iran, Qatar.