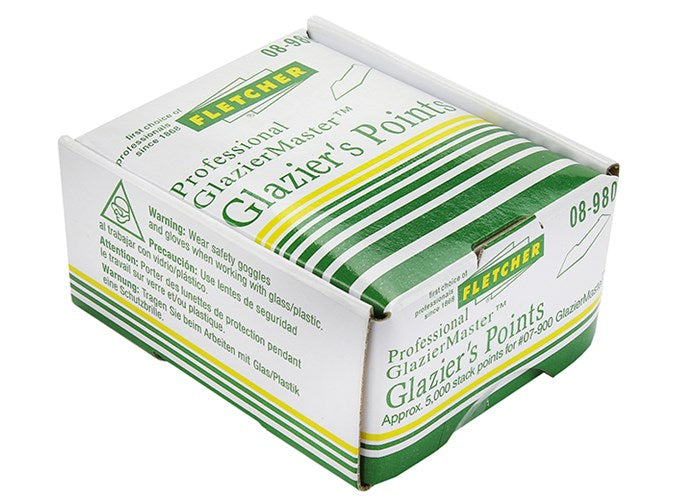 08-980 - Fletcher-Terry Glaziers Points 8mm Box 5000
Glaziers Points 8mm Box 5000 by Fletcher - 08-980
Fletcher is favored worldwide by professional framers at all levels for making the most trusted points and drivers in the industry. Since the 1980s, Fletcher has to lead the industry in setting the performance standards for points and drivers used in the picture framing and glazing industries, and that trend continues today. Is saving pennies on some knock-off points worth risking the value of your framed artwork? We don't think so. Trust the Fletcher Brand.
8mm long rigid glaziers point specially made for the black Fletcher FrameMaster point driver
They drive in flush, quickly, and neatly into most wood and PS moldings to hold the frame back in place. Much quicker and less effort than any other method.
Reversing the FrameMaster magazine adapts it to fire either the 8mm Glaziers Points or the 16mm Framers Points. Holds a stack of 100 of either. The 8mm Glaziers Points are ideal on smaller frames as they are more discrete.
For reliable operation, always use genuine Fletcher Glaziers or Glaziers points in your FrameMaster. The points are wax-free, so will not easily slip out of wood once fired in. If needed, the points can be easily removed with the Fletcher PullMate tool.
Special Order Expected availability: 7-14 business days from date of order. To request a stock availability update on this product please email us at info@rafigroup.ae.
Fires perfectly flat into the window frame for holding a glass

Precision firing fires one point at a time

Tension adjustment allows you to tweak firing power

Easy to load magazine holds 100 points for increased production 

Local Gulf Regional Stockiest -  UAE Emirates, Kuwait, Saudi Arabia, Oman, Bahrain, Pakistan, Dubai, Iran, Qatar.