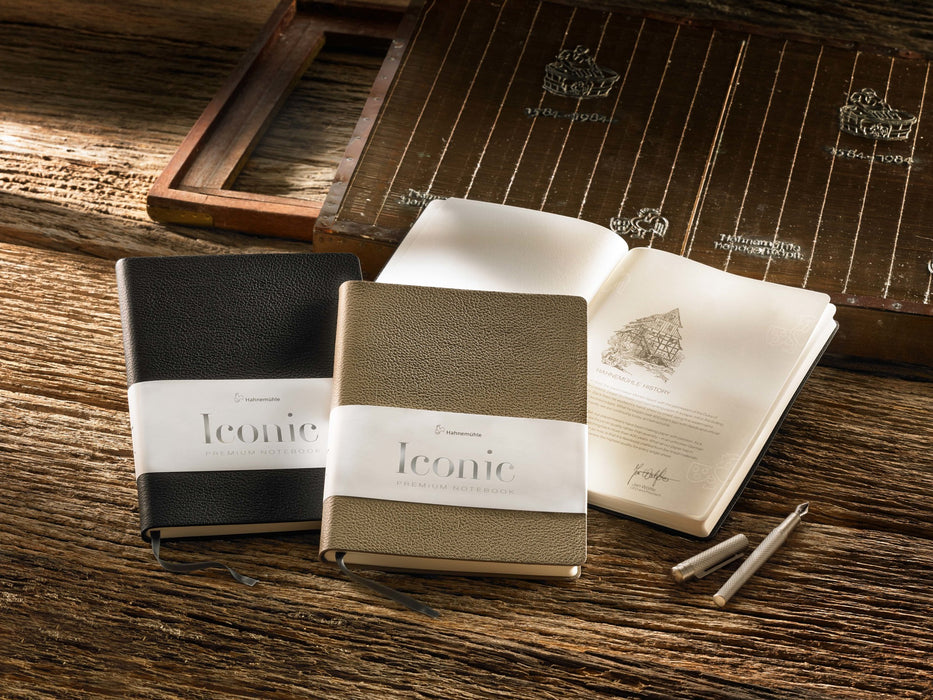 Hahnemühle Iconic Notebook - Taupe - A5 - 100 gsm - 96 Sheets / 192 Pages
Hahnemühle Iconic Notebook - Taupe - A5
When you pick up Hahnemühle's Iconic Notebook, you're holding more than four centuries of papermaking tradition in your hands.
To create these sophisticated books with genuine leather covers, we bind together our most sumptuous watermarked paper, which we've been producing for painters, authors, writers, and thinkers since 1584.
With 192 pages of creamy off-white 100 gsm paper, subtly dotted paper, and acid-free. The soft leather cover is pleasantly textured and ensures your notes are safely protected, while the rounded corners and handy ribbon marker add delicate details to this iconic writing accessory.
Special Order Expected availability: 7-14 business days from date of order. To request a stock availability update on this product please email us at info@rafigroup.ae.
FineNotes A5 Notebook
Genuine leather cover – Taupe
100 gsm dotted writing paper with watermark
Made in Germany
96 sheets / 192 pages
Made in Germany
Local Gulf Regional Stockiest -  UAE Emirates, Kuwait, Saudi Arabia, Oman, Bahrain, Pakistan, Dubai, Iran, Qatar.