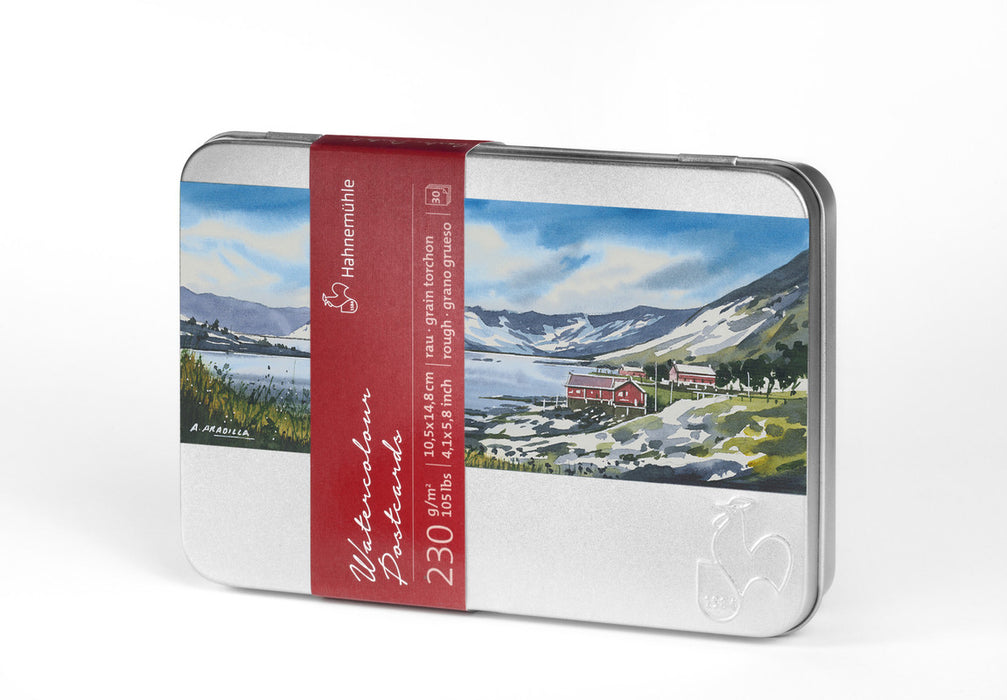 Hahnemühle Watercolour Postcards in Metal Box - Cold-Pressed and Rough 230 gsm (Postcard)
Hahnemühle Watercolour Postcards in Metal Box - Cold-Pressed and Rough 230 gsm (Postcards)
If you want to create tactile and visually unique pieces in miniature, then watercolour postcards are a perfect choice. Hahnemühle is now offering its popular watercolour postcards with a cold-pressed surface in addition to the rough surface currently available. The round-edged postcards, with the address field printed on the back, are perfect for on-the-go creative souls, from watercolour and Plein air painters to urban sketch artists. The 30 cards have a weight of 230 gsm and can be safely transported in the stylish metal box, to be painted and then posted wherever you are. Holiday greetings, a travel portfolio, a picture story... There are no limits to the possibilities of these new cold-pressed postcards. The softly textured paper allows for easy use of brushes and every kind of pencil or pen. The card's natural tone allows the colours to glow, and the paper is equally suitable for both wet and dry painting techniques.
The beautiful metal box is only available as a limited edition. It will be sold worldwide while stocks last.
Made in Germany
Local Gulf Regional Stockiest -  UAE Emirates, Kuwait, Saudi Arabia, Oman, Bahrain, Pakistan, Dubai, Iran, Qatar.