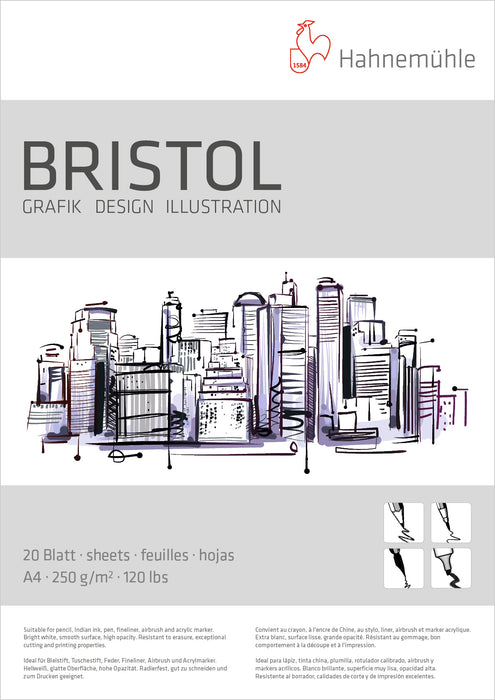 Hahnemühle Graphic, Design & Illustration - Bristol
Hahnemühle Graphic, Design & Illustration - Bristol
250 gsm - bright white, smooth surface, high opacity
BRISTOL is ideal for drafts, studies, illustrations, and drawings or prints. The sturdy, ultra-smooth surface allows for working with dry and fluid drawing media. Pencils and colored pencils, Indian-ink pens, fountain pens, fine liners, and acrylic markers all glide over the smooth surface and make for an opaque color layer. Also suitable for use with airbrushes.
The paper features a high opacity and a weight of 250gsm. On the non-absorbing surface, lines and colors stand out vividly. The bright white color of the paper allows for the easy scanning and isolating of subjects without elaborate post-processing. BRISTOL is eraser proof and can be cut easily. Additionally, as a high-quality drawing paper, it is perfectly suited for presentations.
Special Order Expected availability: 7-14 business days from date of order. To request a stock availability update on this product please email us at info@rafigroup.ae. Artist Papers & Technical Papers Minimum Wholesale Order is 1500AED.
Smooth
Double Sizing
High Opacity
Made in Germany
Local Gulf Regional Stockiest -  UAE Emirates, Kuwait, Saudi Arabia, Oman, Bahrain, Pakistan, Dubai, Iran, Qatar.