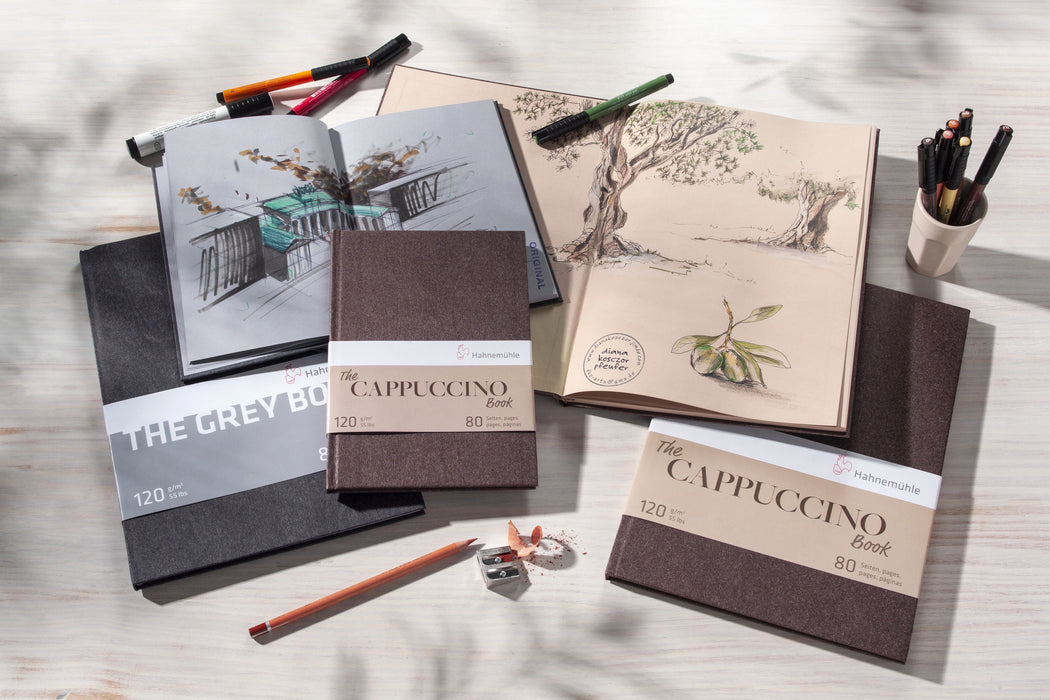 Hahnemühle The Cappuccino Book - 120 gsm - A5, and A4 - 40 Sheets / 80 Pages
Hahnemühle The Cappuccino Book - 120 gsm -  A5, and A4 - 40 Sheets / 80 Pages
The Cappuccino Book is a sketchbook with smooth, light brown paper suited for acrylic markers, Indian inks, and acrylic marker pens.
The Hahnemühle Cappuccino Book features a smooth light brown sketch paper that is well suited for Indian inks, fountain pens, and acrylic markers, offering an alternative to traditional white backgrounds. Colors stand out well on the non-absorbing surface and can be highlighted with white accents. Due to the stitched binding, pages lay flat. The sketchbook's dark brown, the hardback cover features a light grain that resembles wood and is finished with a brown ribbon page mark. Acid-free and extremely age resistant.
60 Sheets/ 120 Pages
Spiral-bound
Ruled and plain pages, 120gsm
Personalized labels
Made in Germany
Local Gulf Regional Stockiest -  UAE Emirates, Kuwait, Saudi Arabia, Oman, Bahrain, Pakistan, Dubai, Iran, Qatar.