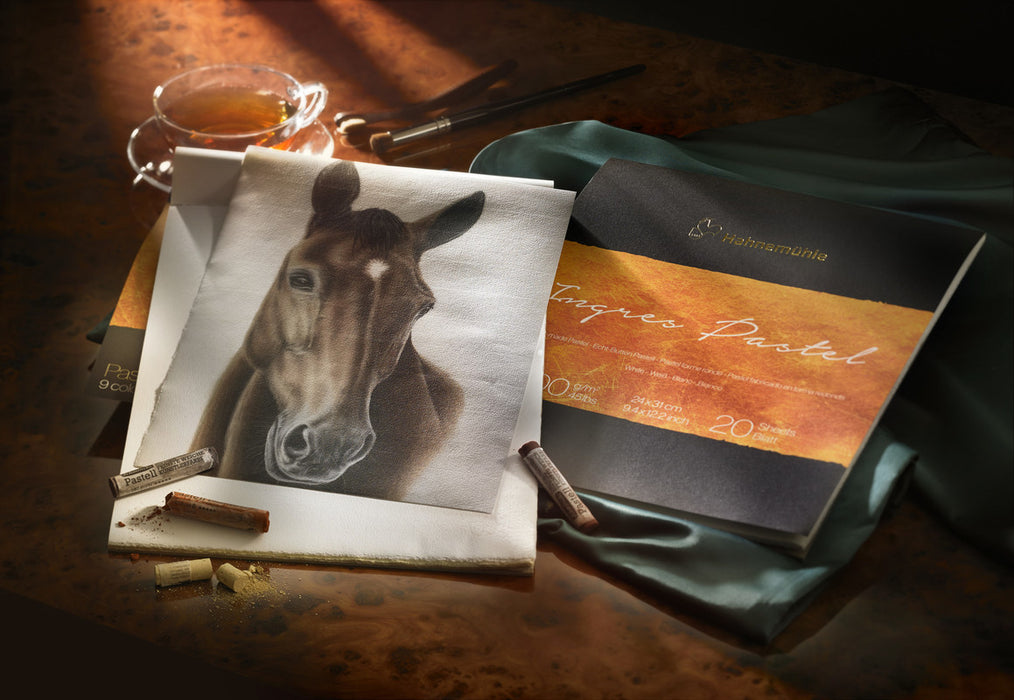 Hahnemühle The Collection - Ingres Pastel - 150 gsm - 104 x 78 cm (25 Sheets)
Hahnemühle The Collection - Ingres Pastel 150 gsm
Mold-made - Natural White
Hahnemühle Ingres Pastel offers pastel artists the perfect surface. Designed for this specific artistic technique, the Ingres Pastel 100 gsm paper has fine ridges and a slightly rough surface. It allows even color adherence without using a lot of pressure, producing precise and color-intensive results. Thanks to the exclusive use of high-quality pigmented colors in the production of this paper, Ingres Pastel boasts exceptional lightfastness. It is ideal for pastels, pencils, and red chalk. Hahnemühle Ingres Pastel is available as a pad in white or nine different shades - bright white, white, ivory, antique, yellowish, grey-brown, brown, middle grey, and grey. The paper content of each pad has two cut edges and two deckle edges. The deckle-edges are created naturally during the production process. This process can result in minimal format deviations, which underlines the character of a natural product and makes each sheet unique.

Special Order Expected availability: 7-14 business days from date of order. To request a stock availability update on this product please email us at info@rafigroup.ae. Artist Papers & Technical Papers Minimum Wholesale Order is 1500AED.
Hahnemühle Ingres Pastel is
vegan
resistant to aging
acid-free
Made in Germany
Local Gulf Regional Stockiest -  UAE Emirates, Kuwait, Saudi Arabia, Oman, Bahrain, Pakistan, Dubai, Iran, Qatar.