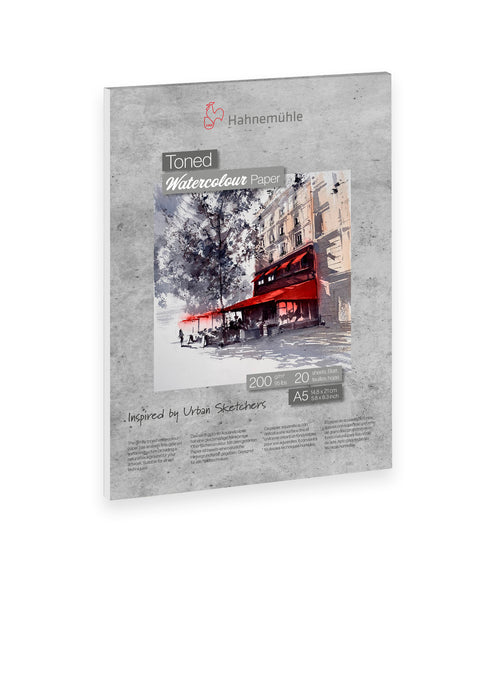 Hahnemühle Watercolour Paper - Toned Watercolour Paper,- 200 gsm (Pad)
Hahnemühle Watercolour Paper - Toned Watercolour Paper,- 200 gsm
200 g/m² - fine-grain surface - grey and beige
Many artists have waited a long time for Toned Watercolour Pads. The Toned Watercolour pads combine the desire for a toned paper with a real, classy watercolor texture, that's unique on the market.
The pads contain 20 sheets of the finest watercolor paper. Matched to the requirements of watercolor painting, the toned papers allow to set the focus on the motif, as the natural background color is already given. The 200 gsm watercolor paper has a fine grain surface. Due to the surface sizing, colors can be effortlessly lifted from the paper. The use of masking fluids, adhesive tapes, and erasers are possible without residue. The Toned Watercolour Pad is available in grey or beige paper. The pads are glued on top.
Hahnemühle Toned Watercolour Pads are available in A5 and A4, as well as square in the format 20x20 cm. The toned watercolor papers are acid-free and age-resistant.
Special Order Expected availability: 7-14 business days from date of order. To request a stock availability update on this product please email us at info@rafigroup.ae. Artist Papers & Technical Papers Minimum Wholesale Order is 1500AED.
Grey & Beige Toned Pages
200gsm
20 Sheets 
Fine Grain
Made in Germany
Local Gulf Regional Stockiest -  UAE Emirates, Kuwait, Saudi Arabia, Oman, Bahrain, Pakistan, Dubai, Iran, Qatar.