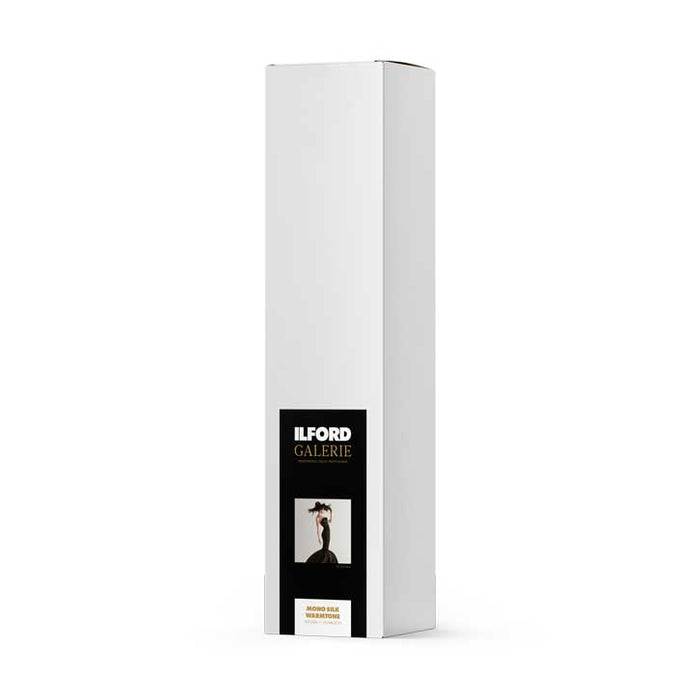 ILFORD GALERIE Mono Silk Warmtone - 250 gsm (Cut-Sheet Pack & Roll)
Pro Photo Paper - Mono Silk Warmtone - 250 gsm
ILFORD GALERIE Mono Silk Warmtone is a 250gsm resin-coated photo paper with no added optical brighteners. The warm base tint gives deep blacks and warm whites. The product has been developed specifically for photographers that are passionate about black and white photography.
GALERIE Mono Silk Warmtone is a true black and white media for inkjet printers allowing photographers specializing in monochrome photography to achieve stunning images reminiscent of darkroom prints.
Fans of traditional black & white products no longer need a darkroom to bring to life their black and white prints. The contrast and transition between shadow and highlight areas are seamless thanks to the unique ILFORD nanoporous coating layer technology and coupled with exceptional Dmax and Dmin values, Mono Silk Warmtone is capable of delivering deep, rich blacks and bright whites.
Key Benefits 
Dedicated black and white product
Acid-free and lignin-free fiber base
Reminiscent of darkroom prints
Seamless transition between shadows and highlights
High Dmax and low Dmin
Backed by over 130 years of imaging excellence and know-how in both digital and analog printing, ILFORD has finally blended the two mediums to offer this unique and exciting step forward in digital imaging technology.
Local Gulf Regional Stockiest -  UAE Emirates, Kuwait, Saudi Arabia, Oman, Bahrain, Pakistan, Dubai, Iran, Qatar.