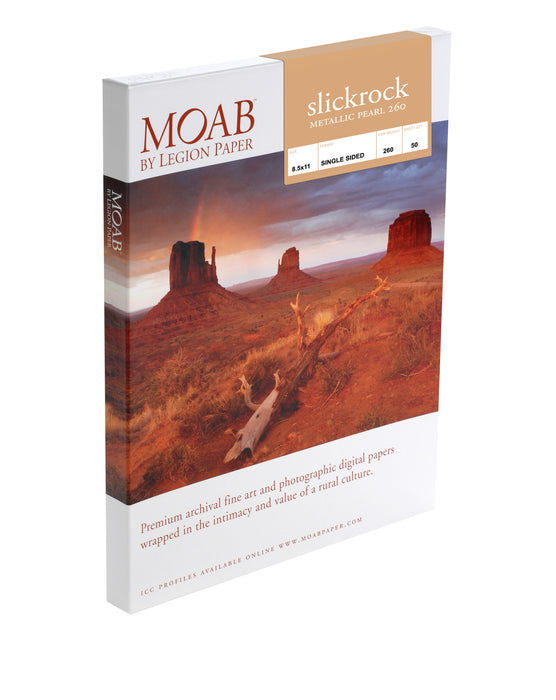 Moab Paper - Slickrock Metallic Pearl 260 gsm - A4 Single-Sided (25 Sheets)
Moab Paper - Slickrock Metallic Pearl 260 gsm - A4  Single-Sided - 25 Sheets

Designed for photographers seeking to enhance their images with a metallic look, Slickrock Metallic Pearl 260 and the new Slickrock Metallic Silver 300 transforms an image into lifelike, almost 3D quality.
The new Slickrock Metallic Silver 300 is an ultra-shiny, true metallic inkjet paper with a unique instant dry coating for jaw-dropping image reproduction. Slickrock Metallic Silver 300 adds unprecedented depth to an image featuring exceptional reflective shine never seen before. This metal-like surface produces images that jump off the paper and can be handled immediately after printing.
Specification:
300 gsm / 12 mil
Brightness 39
Opacity > 100
Gloss 60deg 78
Gloss 85deg 54
Acid-Free
Single-Sided
Pigment / Dye
Made in the US
Local Gulf Regional Stockiest -  UAE Emirates, Kuwait, Saudi Arabia, Oman, Bahrain, Pakistan, Dubai, Iran, Qatar.