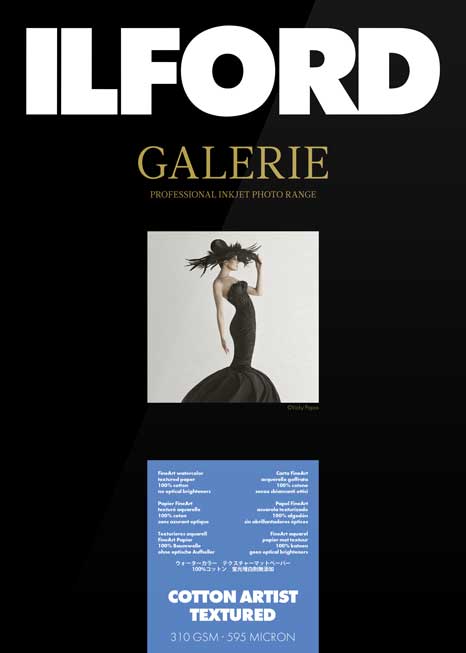 ILFORD GALERIE Cotton Artist Textured - FineArt Cotton - 310 gsm
FineArt Cotton - Cotton Artist Textured - 310 gsm
ILFORD GALERIE Cotton Artist Textured shows a strong watercolor textured surface and is exceptionally suitable for fineArt reproduction. This 100% cotton rag paper is free of optical brighteners and meets the criteria for durability according to ISO 9706
GALERIE Cotton Artist Textured is a mold-made 100% Cotton rag paper. The coarse structured surface allows for a beautiful traditional watercolor look and feels, whilst still reproducing pin-sharp details and color consistency.
Key Benefits 
Free of optical brighteners
Traditional watercolor textured surface
Wide color gamut and color consistency
Sharp crisp details
Mold-made, 100% cotton rag paper
No optical brighteners
Base manufactured in a traditional paper mill
With no optical brighteners, this new addition in the GALERIE range is sure to add an extra dimension for the artisan printer and fine art photographer.
Local Gulf Regional Stockiest -  UAE Emirates, Kuwait, Saudi Arabia, Oman, Bahrain, Pakistan, Dubai, Iran, Qatar.