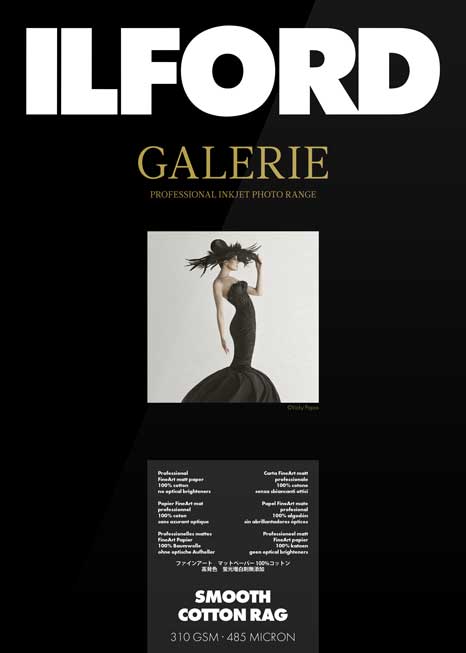 ILFORD GALERIE Smooth Cotton Rag - FineArt Matt - 310 gsm (Cut-Sheet Pack & Roll)
SKU
GA6962329483 (2004039)
FineArt Matt - Smooth Cotton Rag - 310 gsm
ILFORD GALERIE Smooth Cotton Rag paper leads the way for professional fine art printing. This mold-made, 100% cotton rag paper has been crafted specifically to meet the needs of fine art photographers who want the confidence that the media they use will deliver accurate and dynamic results time after time. Smooth Cotton Rag is free of optical brighteners and meets the criteria for durability according to ISO 9706.
The new GALERIE 100% Cotton fourdrinier-made rag papers lead the way within the range in meeting the needs of professional fine art printers. Photographers and print-makers alike can rely on these new papers to produce the highest quality images they have come to know and love from ILFORD.
Key Benefits 
Free of optical brighteners
100% cotton rag
Very smooth surface
No optical brighteners
High color consistency and gamut
Water resistance
With no optical brighteners and the longevity, image stability, and a clean matt surface required for the very best in fine art printing, Smooth Cotton Rag is offered as the perfect choice for crisp detail, while the Textured Cotton range features a contoured surface for enhanced creative expression.
Local Gulf Regional Stockiest -  UAE Emirates, Kuwait, Saudi Arabia, Oman, Bahrain, Pakistan, Dubai, Iran, Qatar.