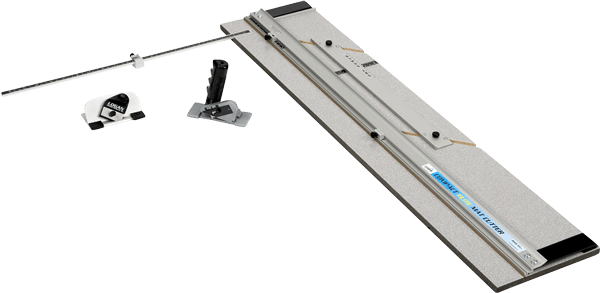 Logan 350-1 - Compact Elite Mat Cutter
Logan 350-1 - Compact Elite Mat Cutter
The Compact Elite is a versatile, portable, 32" (81cm) capacity mat cutter. It provides affordable and professional results and is a more feature‑rich, deluxe version of 301‑1 Compact Classic.
The 350‑1 has a downsize capacity of 32" (81cm). It includes a parallel mat guide for setting border widths from 3/4" (1.9 cm) to 4‑5/16" (11 cm), fully hinged guide rail to guide cutting heads, scaled production stops, built in squaring bar for holding mat board square, a 20" (51cm) measuring bar with stop, push style bevel cutting head with start and stop indicator, pull style straight cutting head for downsizing mat board and foam board, built‑in carry handle in box, five extra blades, and a fully illustrated matting instruction guide. The 350‑1 is ideal for lower volume at‑home framers.
Uses 270 Replacement Blades.
Special Order Expected Availability 2-4 Weeks
Product Features / Highlights:
32" (81.3 cm) capacity
Bevel & straight cutting heads
Bevel cutter for use on standard thickness mat board
Parallel mat guide
Hinged guide rail with production stops
Squaring bar
20" (51cm) removable measuring bar with stop
Built‑in carry handle in box
Logan makes tools for everyone.

Light Usage: designed for crafters & hobbyists
All Purpose Usage: ideal for artists, photographers, serious crafters
Heavy Duty Usage: engineered for high production implementations such as professional framers & educational facilties