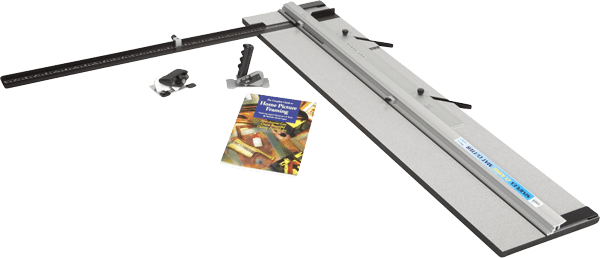 Logan 550-1 - Simplex Classic - 40" (101cm) Mat Cutter
Logan 550-1 - Simplex Classic - 40" (101cm) Mat Cutter
The Simplex Classic is a full featured artist's level mat cutter offering professional features at a economical price. It's the all‑purpose Logan mat cutting tool used by thousands of artists worldwide.
This tool is a board mounted mat cutter featuring a hinging guide rail with production stops, parallel mat guide in aluminum channels, 32" (81cm) squaring arm with stop, pull style bevel cutter, 701‑1 Straight Cutter Elite, and the newly updated Complete Guide to Home Picture Framing book.
The Simplex Classic is ideal for the serious at‑home artist or framer.
Uses 270 Replacement Blades.
Special Order Expected Availability 2-4 Weeks
Product Features / Highlights:
40" (101 cm) capacity
Offers professional features, economical price
Straight & bevel cutting heads
Bevel cutter for use on standard thickness mat board
Mat guide & squaring arm
Production stops = faster repeat mat cutting
Logan makes tools for everyone.

Light Usage: designed for crafters & hobbyists
All Purpose Usage: ideal for artists, photographers, serious crafters
Heavy Duty Usage: engineered for high production implementations such as professional framers & educational facilties