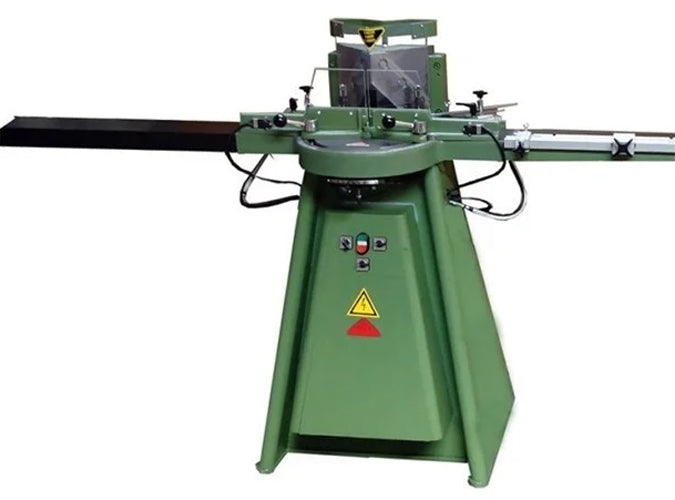 Morso EH Miter Machine - Automatic Electric / Hydraulic
Morso EH Miter Machine - Automatic Electric / Hydraulic
The Morso EH series of mitre guillotines do all the hard work with an electro-hydraulic power system
Very quiet in operation, at around 70db and little or no dust is created. Fully self-contained, no air supply required.

Hydraulically operated moulding clamps and automatic rebate supports keep the moulding firmly in place during the cutting cycle. The head advances automatically in adjustable steps.

Interlocked safety switches ensure safe operation. The powerful, smooth, cutting action gives superb cuts on all kinds of wood and synthetic mouldings.

All fitted with the Second Stop, which lets you set short and long lengths for a run of the same size of frame.

EH: the original powered machine, available in single or three phase.
EHT: similar, but with upgraded power pack for faster cutting cycles.
EHS: Power pack positioned remotely, so even quieter.
EH Digital: Full digital control.
EHXL: 5 bolt blades, 5573, cut wood and synthetic mouldings up to 150mm wide and 250 tall. It measures up to 2.5m. A unique machine for high quality volume framers. It delivers the cut size advantages of a saw, but with minimal noise and no dust extraction requirements.

EH series machines are ready to use after connection to the power supply. No compressor required. Ask for more information on the optional digital control system for EH range guillotines.

Product Specifications:
Maximum moulding width: 100mm
Maximum moulding height: 180mm
Blades: 3 bolt
Right-hand measure: 1.5m
Power: 1ph & 3ph
Frames per day: 800
Weight: 135kg
Local Gulf Regional Stockiest -  UAE Emirates, Kuwait, Saudi Arabia, Oman, Bahrain, Pakistan, Dubai, Iran, Qatar.