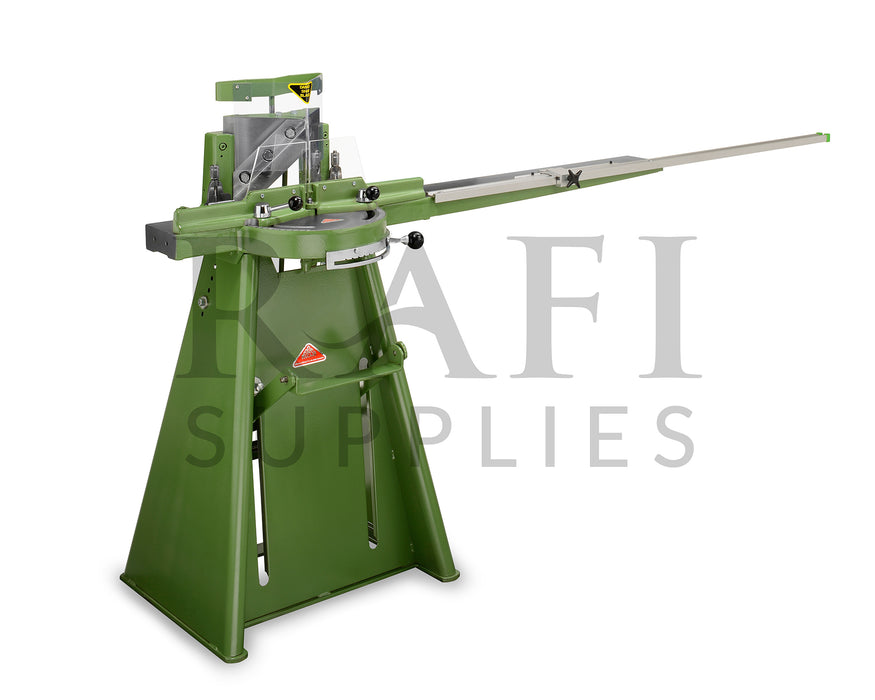 Morso F Mitre Guillotine 1500mm Metric
Morso F Mitre Guillotine 1500mm Metric
Morso F foot-operated guillotine cuts double 45° miters, in wood and polymer moldings for quality bespoke framing.
Cuts with two very sharp blades leave the miter cut faces perfectly smooth and accurate, requiring  no further preparation before joining.
Twin return springs automatically return the blades to starting position.
Blades are moved in and out with a hand-operated ratchet mechanism. This allows the blades to bite through the molding in small steps. A final shaving cut ensures perfect joins.
Offcuts slide down the chute at the rear for collection.
The cutting stop and measuring scale system make it easy to set the length while allowing for the molding width. This speeds accurate repeat working.
Does not require air or electrical supply.
Left-hand molding support is an optional extra, 1007
Creates no noise or dust.
Centre cut wastage is minimal - app 1mm.
Micro-adjustable rebate supports to prevent the rebate lip from cracking when the blades slice through the molding.
Supplied with acrylic finger guards and a box guard to give good safety protection.
Design is the result of continuous refinement over 50 years of production by Dan-List a/s in Denmark.
Product Specifications:
Max moulding width: 100mm
Max moulding height: 160mm
Table height: 830mm
Max rebate height: 38mm
Overall width: 2150mm
Working space required: Approx 4m
Delivered weight inc packing case: 100kg
Morso F has a 1500mm scale. 830mm table height.
Local Gulf Regional Stockiest -  UAE Emirates, Kuwait, Saudi Arabia, Oman, Bahrain, Pakistan, Dubai, Iran, Qatar.