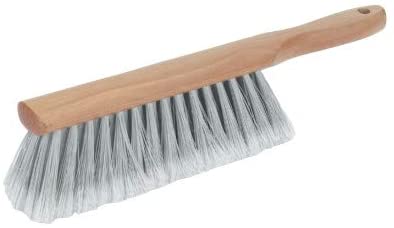 Silver Foxtail Bristles Brush
Silver Foxtail Bristles Brush
[Multi-function] The brush is the strongest bench brush because of bristle quality and balance. This brush could also be used as a furniture brush, counter, drafting, or patio brush. Works wonderfully with a metal dustpan. It is great for cleaning coffee grinds or a gift for a woodworker or gardener. Handy for cat litter and fireplace cleanup. It is one beautiful workbench brush at an affordable price.
[Durable handle] Highly resistant to tear, Durable enough for daily use. Gives you a comfortable grip with a natural smooth lacquered wood handle, you will find it easy to remove dust and debris, it is more comfortable than short handles and more durable than plastic handles.
[Good grip] Dust brush handle made of natural oiled beechwood, with a smooth and comfortable grip
[Material quality] Natural pure Foxtail tidying up large surfaces Easy and efficient
[Convenient] Always hang it so bristles do not lose shape. Use a comb now and then to brush out the bristles. If needed wash the bristles with soap and water. Shake hard outside. Hang to dry.